"I expect Scott's practical framework to be adopted by many PR agencies seeking to strengthen their influence with the C-suite and expand their value to brands."
Iliyana Stareva
Author, Inbound PR: The Agency's Manual to Transforming Your Business with Inbound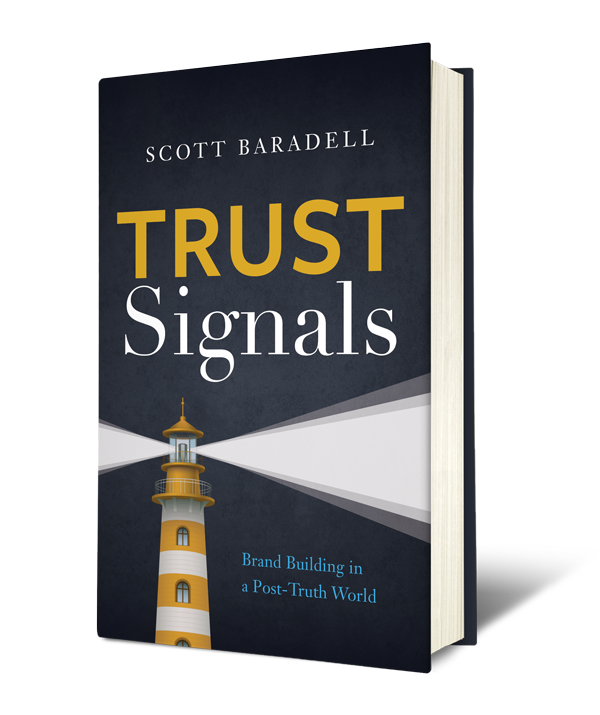 "Scott's book offers an ingenious way to connect the dots in an increasingly challenging landscape for building brand trust. Trust Signals will help CMOs to better prioritize and calibrate their marketing investments."
Vinay Bhagat
Founder, CEO, TrustRadius
Trust Signals: Brand Building in a Post-Truth World
This breakthrough book from Scott Baradell redefines the practice of public relations for how online influence works today.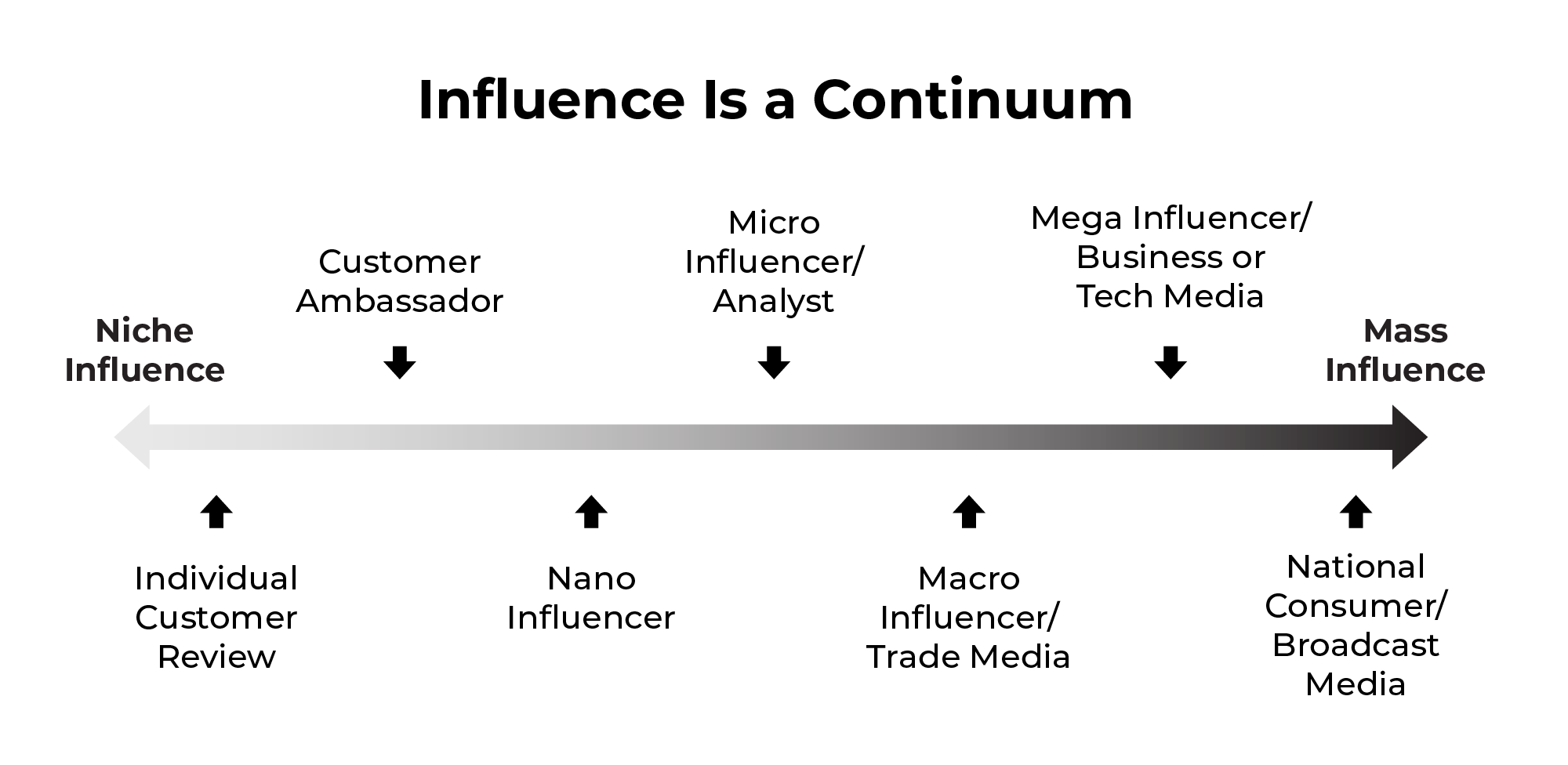 Advancing the profession beyond its longtime hyperfocus on the media, Baradell introduces a framework that will inspire you to look at PR in a whole new way—one that incorporates all the tools necessary to build, grow and protect your brand.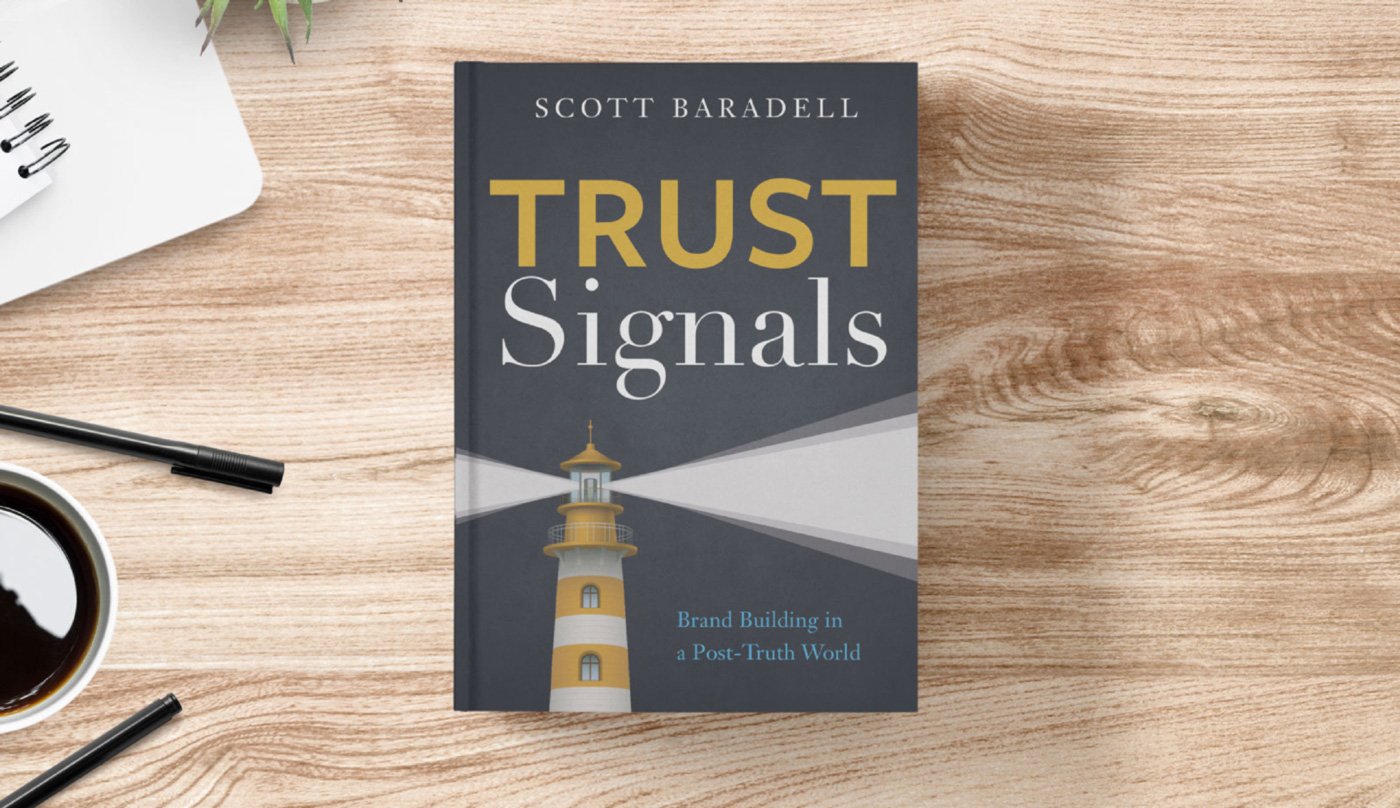 Let's say you are interested in a book by an author you aren't familiar with—this book, for example.
Before you buy it, you wonder, "Can I trust this author?" Can you trust that their book will be worth your money and your time?
The author, in turn, tries to prove their trustworthiness in a number of ways:
An accomplished and relevant biography
Glowing praise from well-known people on the cover
Five-star reviews on Amazon
Acclaim on social media by people you follow
Coverage in news media outlets you know and respect
These are examples of trust signals, the points of evidence that individuals, companies and brands use to win one another's trust.
Mastering these signals is the single best way to build, grow and protect your brand in today's post-truth world—where trust is the most precious commodity of all.
Why Trust Signals Are the Language of Modern PR
In this video, Scott shares how history has led PR to its current crossroads—and can point the industry toward a brighter future.
26 Trust Signals You'll Learn About in This Book
Trust-centered website design
Website trust badges
Website personalization
Customer logos
Case studies
Testimonials
Industry awards
Industry partnerships
Media coverage
Press releases
Sponsored content
Community participation
Influencer endorsements
Online reviews
Bandwagon appeals
BBB accreditation
Thought leadership content
Executive visibility
Zero-click search presence
Google Business Profile
Branded search traffic
Social media engagement
Rapid response to complaints
Quality backlinks
Wikipedia listings
Forums and directories
The New Inbound Marketing:
Breadcrumbs of Trust

Many books and articles on inbound marketing focus almost exclusively on the content that brands create themselves—as if this content lived in a vacuum.
The buyer conducts a Google search and finds an article on your blog that addresses a problem they are seeking a solution for.
The buyer likes the blog article so they subscribe to your email list.
The buyer receives an email featuring a video demo of your product or service and watches it.
The buyer is retargeted with an ad offering a 20% discount code for purchases made that day.
The buyer clicks through the ad to a landing page where they sign up and pay for your product or service.
You've undoubtedly seen stages in the purchase funnel presented this way before. But it's not how buying really works today.
Today, brands must lay breadcrumbs of trust from a wide range of sources—because your customers trust what other people say about you more than what you say about yourself.
Here's how following a breadcrumb trail to purchase works in 2022:
The buyer conducts a Google search and finds a helpful article by you, but it's in an industry trade publication, not your own blog.
When the buyer has an interest in the product or service you offer, they go to an industry review site and begin comparing their options. The buyer sees your brand name and recognized it from the article you wrote, so they include you in their consideration set.
Because you have the best reviews among your competitors, the buyer looks for other information about you. They find media coverage highlighting your company's growth and successes.
The buyer finally decides to go to your website and purchase your product or service—visiting your owned media for the first time in the buying process.
Some inbound marketing firms only offer content marketing, combined with a heavy dose of advertising, in their programs. It's important to understand that without integrating third-party validation from trusted sources, this insular approach is doomed to fail.
The Grow With TRUST System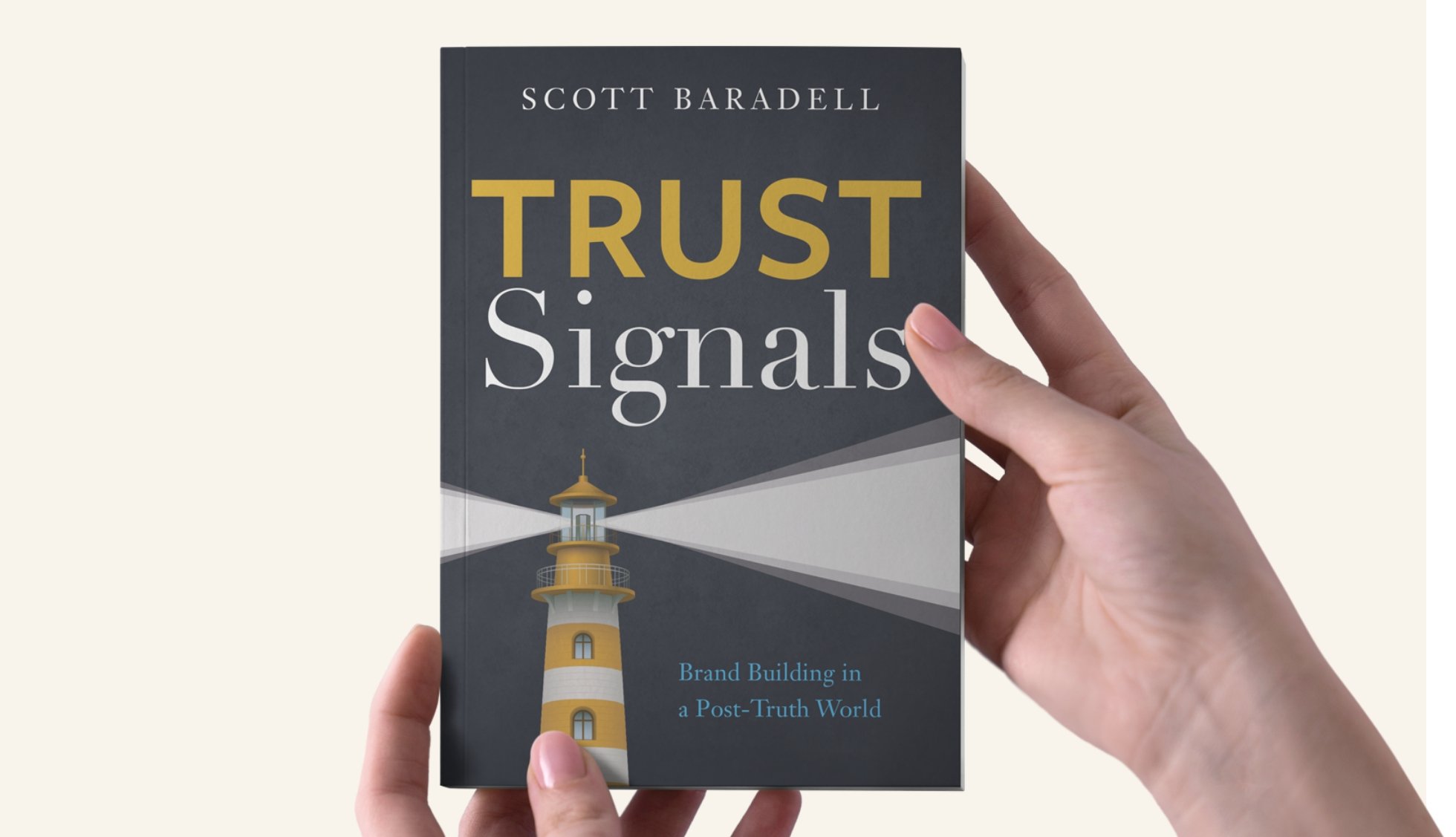 A modern public relations agency should be able to help its clients build a path of credibility—breadcrumbs of trust— that accelerates every aspect of the marketing funnel.
But having a list of trust signals to work from isn't enough. Every brand's trust-building efforts should be part of a unified plan.
That's where the Grow With TRUST system comes in. It brings together trust signals in an integrated set of solutions, all designed to help brands secure trust at scale.
The "TRUST" in Grow With TRUST is an acronym for the five solutions every modern PR firm should offer to help their clients secure trust at scale: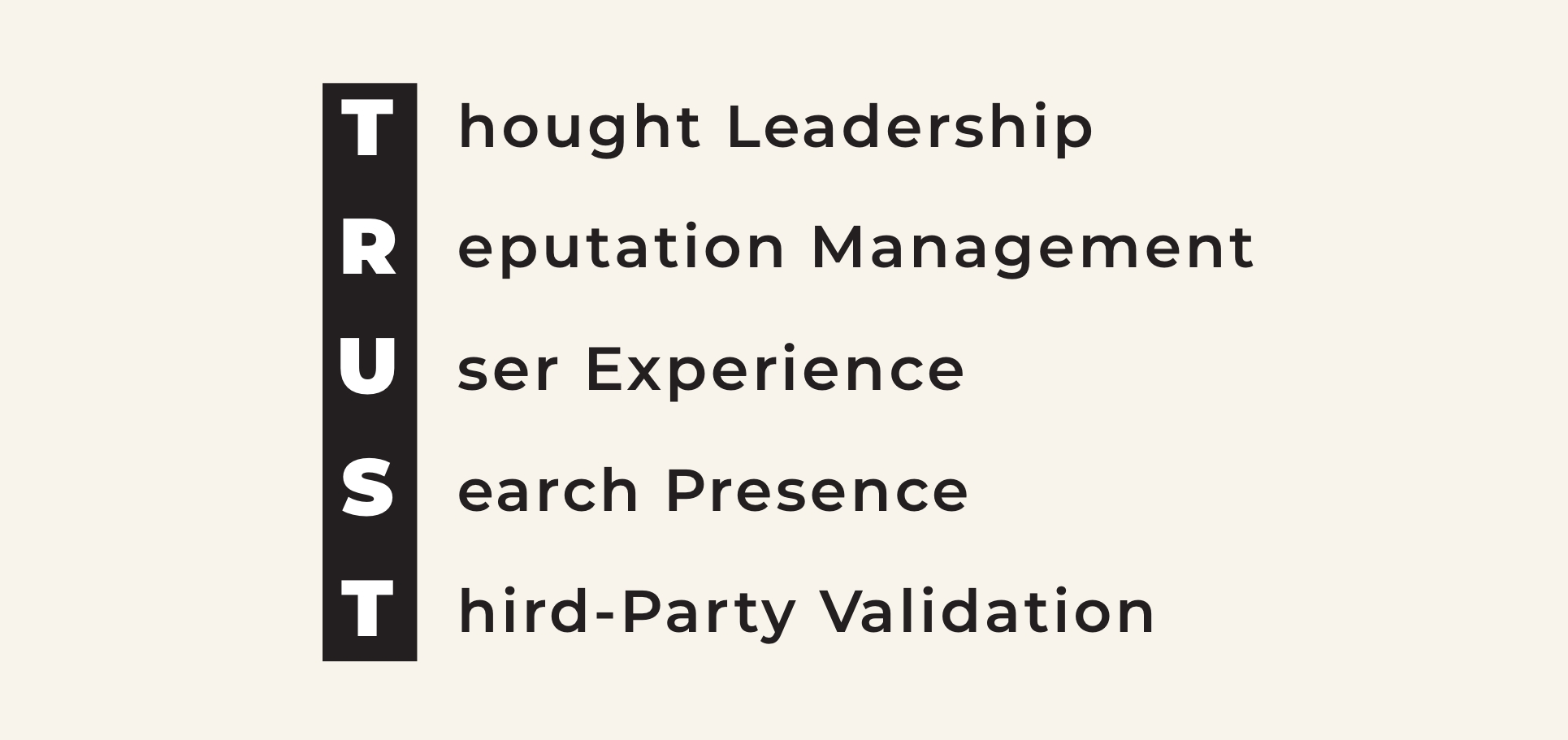 This book shows why the Grow With TRUST system is the most effective way for virtually any company to build, grow and protect its brand today.
It's also the most natural way for PR agencies to meaningfully differentiate their services from those of other digital marketing firms.
"In Trust Signals, Scott Baradell makes a compelling case that in our post-truth world, earning trust is a more complex task than ever for brands—but also one well worth the effort. Scott explains in practical detail how businesses can build a path of credibility online—breadcrumbs of trust—that attracts website visitors and accelerates brand growth."
GINI DIETRICH
Founder, CEO, and author of Spin Sucks
"While 'trust signals' began as a term of art in the world of e-commerce, Scott Baradell advocates for its broader use to describe any evidence point that helps a brand to build trust online. Today, not just e-commerce but virtually all commerce is conducted online, thanks to the ascendancy of inbound marketing. Trust Signals draws a direct line from checkout-page security seals to news media coverage and Google visibility as sources for building, growing, and protecting brand trust."
TIM DOWLING
Founder, CEO of TrustedSite
"In Trust Signals, Scott lays out a clear, detailed, practical, and integrated approach to making it easier for people to say "yes" with confidence. And he does so with historical context, smart pop culture references, and full clarity on the fragmentation of trust that characterizes our post-truth reality.

Whether you take these ideas and frameworks as a calling to elevate the practice of PR, as a guidebook to integrating your marketing efforts, or as a snapshot of the shifting media environment, just take care to absorb, prioritize, and implement. Your ability to guide each person through their unique, nonlinear journey of buying from, staying with, and referring you will grow."
ETHAN BEUTE
WALL STREET JOURNAL BESTSELLING AUTHOR OF HUMAN-CENTERED COMMUNICATION AND REHUMANIZE YOU BUSINESS, HOST OF THE CUSTOMER EXPERIENCE PODCAST, AND CHIEF EVANGELIST AT BOMBBOMB
"Scott Baradell argues in Trust Signals that customer reviews are part of a larger con- tinuum of influence online, encompassing sources of information ranging from micro- influencers to the Kardashians and The New York Times. It's an ingenious way to connect the dots in an increasingly challenging landscape for building brand trust. Trust Signals will help CMOs to better prioritize and calibrate their marketing investments."
VINAY BHAGAT
Founder, CEO of TrustRadius
"Scott Baradell defines public relations as 'the art of securing trust at scale.' He posi- tions PR pros as keepers of trust for brands, and he couldn't be more right—but only if the profession listens and opens up to a world of possibilities beyond media relations. I expect Scott's practical framework to be adopted by many PR agencies seeking to strengthen their influence with the C-suite and expand their value to brands."
ILIYANA STAREVA
Author of Inbound PR: The PR Agency's Manual to Transforming Your Business with Inbound
"It's honestly one of the best books I've read on the future of PR and brand building. What I love is that Scott is a practitioner so he's sharing real-world examples of what it takes to build a brand. Definitely check it out."
SHAMA HYDER
BESTSELLING AUTHOR AND KEYNOTE SPEAKER, FOUNDER AND CEO OF ZEN MEDIA
Scott Baradell is a writer and entrepreneur who grew his PR agency, Idea Grove, with business generated by its popular blog. Idea Grove is one of the top twenty-five tech PR agencies in the United States, a three-time Inc. 5000 company, and an Inc. Best Workplace in 2021 and 2022.
In 2020, Scott started a second blog, Trust Signals, to provide news, analysis, and practical advice on what it takes to build trust with customers and the public in today's post-truth world. The blog inspired and culminates in this book.
Before Idea Grove, Scott was the chief communications officer for two billion- dollar companies, the co-founder and CMO of a venture-backed startup, and an award-winning journalist. He lives in Dallas, Texas, with his wife, Maria, and children Juliet, Benjamin, Jack, Christopher, and Maggie.